Technical Reports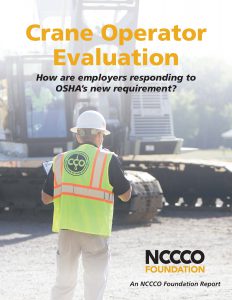 A cornerstone of the mission of the NCCCO Foundation is that it serve as an authoritative industry resource of information related to certification and workforce development matters.
The industry's seemingly ever-changing working conditions, technology, and federal and state rules are challenging to keep abreast of, and the NCCCO Foundation is constantly improving and augmenting its educational and informational offerings in response.
Central to that information effort is SIREN– NCCCO's Safety Information, Research & Education Network. Launched by NCCCO in 2015 to act as a hub for all of NCCCO's educational offerings, and now operating out of the NCCCO Foundation, SIREN acts as a definitive source of information for the crane and lifting industry.
Original research conducted to date has resulted in studies including:
Three Decades of Experience: A Survey of Three-Time Recertificants
The Effects of Calculator Use During NCCCO Testing
The Impact of Line Pull in Crane Load Chart Interpretation
Industry Forums
The NCCCO Foundation organizes the annual Industry Forum on Personnel Qualifications. The inaugural Forum, held to coincide with NCCCO's 20th Anniversary in 2015, focused on the qualifications of personnel working in construction, and featured guest speakers from federal government (OSHA, U.S. Army Corps of Engineers) as well as subject matter experts and representatives from crane manufacturers, crane distributors and the insurance industry.
Following its success, subsequent Forums have been held annually.  All Forums have been remarkably well-received with approval ratings of up to 97%, and delegates rating the quality of the information provided as exceptional.
Examples of topics that have been addressed at Industry Forums include:
How Real is Virtual Reality?
Marijuana and Certification; Can they Cohabit?
What's New at Federal OSHA?
What's So Important About Accreditation?
Implications of OSHA's "Most Similar" Provision
Working Together for Workforce Development
Why Ethics and Discipline Matters Matter
What We Know About OSHA's Position on Lift Directors
What the Revised Corps of Engineers Hoisting Regulations Mean to You
When Do Testing Accommodations Unlevel the Playing Field?
What's coming down the pike on B30 Standards?
Certifications, Certificates and Degrees; what's the difference?
How can Foundation online Directories help employers in compliance?
When do the responsibilities of crane operators begin and end?
Further information on NCCCO Foundation Industry Forums along with Videos and PowerPoints (in PDF format) of presentations made at the Fifth Annual Industry Forum on Personnel Qualifications can be accessed here.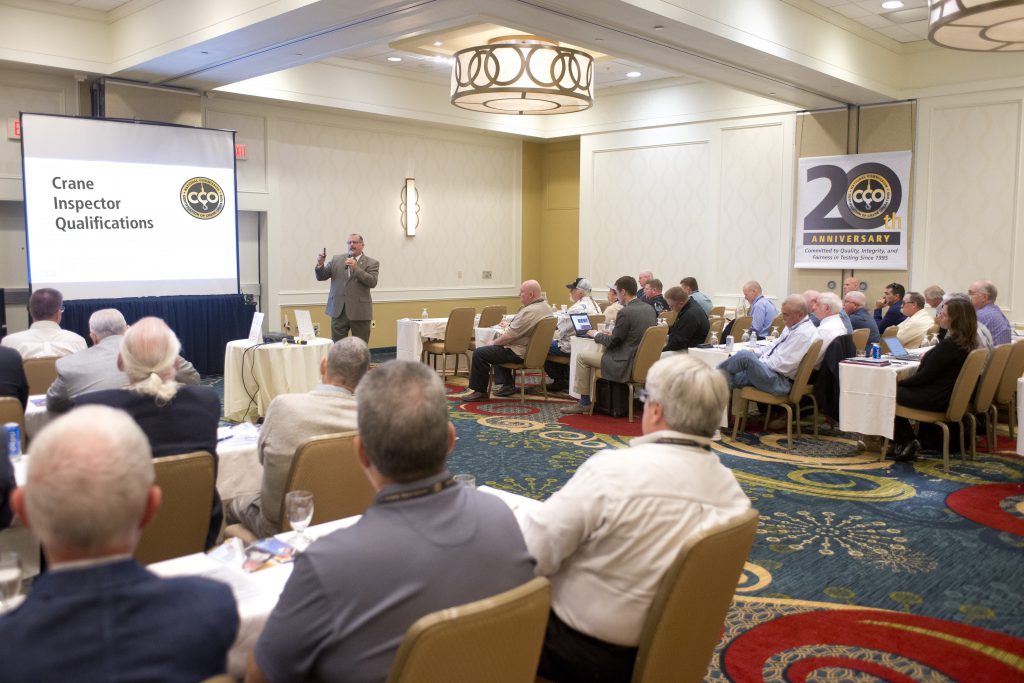 Education at CONEXPO
Since 2012, NCCCO has been an active member of the CONEXPO Education Committee. By tapping its industry network of internationally renowned experts, NCCCO regularly assists in the development of the well-attended and highly-rated crane and rigging education track at each three-year event.
Click here for information about the crane and rigging topics and speakers that are being assembled with the assistance of the NCCCO Foundation for CONEXPO 2023 to be held in Las Vegas, March 14-18, 2023.